Shift Feed
The Shift Feed provides an intuitive, engaging shift swapping experience for employees. Designed like a social media news feed, the Shift Feed allows employees to browse what shifts are available to cover.
Open Shifts
Is there increased store traffic? Did a shipment come in earlier than expected? That's no problem. Managers can quickly ask more employees to come in by posting one or multiple Open Shifts in Shyft. Specify the date, time, and any skill requirements. Then post to a custom group or share with all team members.
Voluntary Time Off (VTO)
There are times a team leader may need some employees to stay home. With Shyft's Voluntary Time Off (VTO) feature, employees are readily notified of VTO opportunities and can agree to take VTO before they arrive for their shift.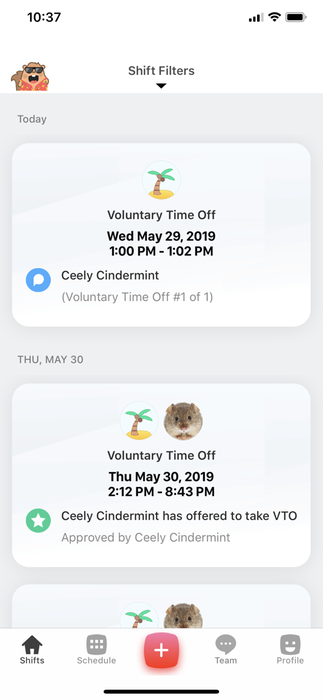 Custom Groups
Create Custom Groups to target available shifts to the appropriate team members. Assign group members based on role and training. Create a group for store announcements to notify the entire team, or distribute a message to members of a functional group.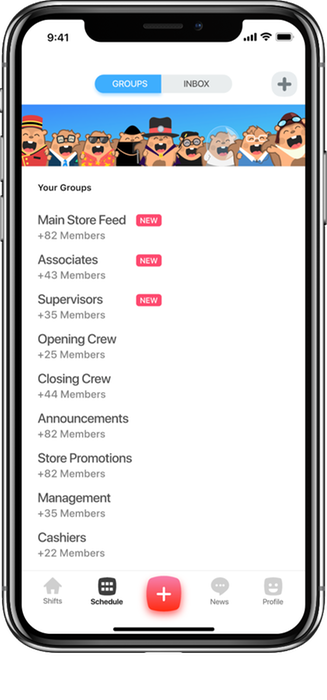 Group Messaging
Group messaging makes it easy for managers to update everyone in a group at the same time. Once assigned to a Custom Group, team members can also message each other in an engaging chat platform. Group members can like and comment on each other's posts to boost camaraderie.
Direct Messaging
An employee can start messaging their fellow team members on their first day using Shyft. Employees can message each other or contact their manager from within the Shyft app. There's no need for employees to exchange their personal information or send company information over external channels such as group text messages or social media groups.
Manager Dashboard
The Manager Dashboard empowers managers to oversee their teams' shift swapping activities in an easy-to-use dashboard. The Manager Dashboard can be accessed on desktop or via web browser on a mobile device. Managers can review shift swap requests, manage the team roster, and export data in the Manager Dashboard.
Enterprise Dashboard
The Enterprise Dashboard gives enterprise leaders an overview of teams' activity in Shyft. The Dashboard is customized to your goals, and the data can easily be exported to create actionable reports.
Recordkeeping
Shyft maintains records of teams' shift swapping activity, consent to schedule changes, team communication, and more to support compliance with Predictable Scheduling legislation.
Custom Settings
Our Customer Success team works closely with your company's Operations, HR, Legal, and Security teams to configure Shyft's features and settings to support company goals.