Available on your device
Crew keeps everyone on the same page with messaging, scheduling, file sharing, tasks, and recognition in one place. Available on all devices (iOS and Android).
Inbox
The inbox is where you find all communication in one place - Operations, HR, Marketing, Corporate, and Learning
Messaging & Announcements
Build morale and retention via real-time communication that involves everyone
Top-Down Announcements
1) Broadcast one-way messages and alerts directly to the frontline. 2) Target everyone or specific groups based on location, role, seniority, etc. 3) Access reporting on exactly who has seen each message.
Team Files
Your team's source of truth - create a single place where everyone can access the latest information, organized and easy to find.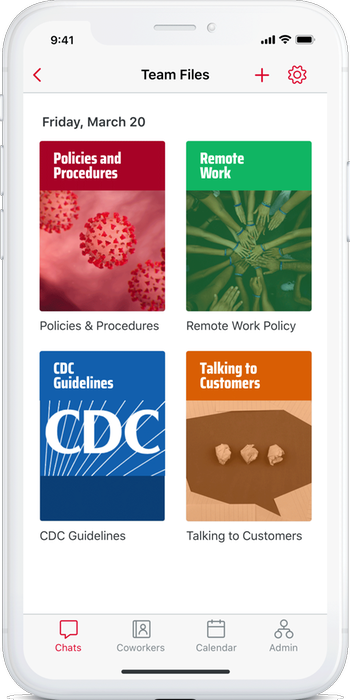 Source of truth
1) Deliver training modules directly to the frontline, ensuring they are acted upon. 2) Replace outdated files with new information so everyone has the latest. 3) Precisely track who has accessed certain files
Chat
Immediately message all team members without the need for emails or phone numbers
Shift Coverage
Improve staffing levels by enabling equal, real-time access to available shifts
Scheduling
Seamlessly manage the store schedule through instant schedule distribution & shift coverage. Sync with WFM solutions, fill shifts faster and optimize staffing levels.
Recognition
Motivate the right behavior and celebrate team wins by recognizing top employees through our Gold Star program.
Task Tracking
Correlate actions with outcomes and promote employee accountability
Employee Surveys
Keep a current pulse on employee sentiment and get real-time feedback on key questions.